chrono::ChLinkRSDA::TorqueFunctor Class Reference
abstract
Description
Class to be used as a callback interface for calculating the general spring-damper torque.
A derived class must implement the virtual operator().
#include <ChLinkRSDA.h>
Inheritance diagram for chrono::ChLinkRSDA::TorqueFunctor: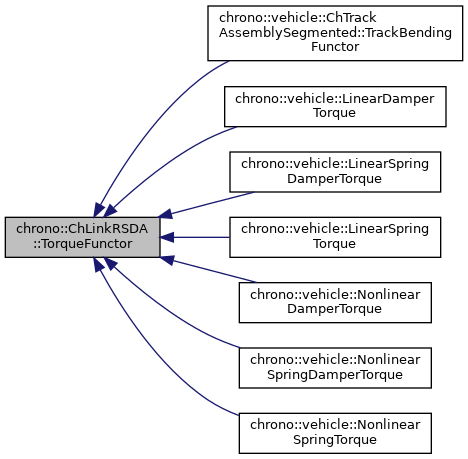 [legend]
Public Member Functions

virtual double 
evaluate (double time, double rest_angle, double angle, double vel, const ChLinkRSDA &link)=0
 
Calculate and return the general spring-damper torque at the specified configuration. More...

 
virtual rapidjson::Value 
exportJSON (rapidjson::Document::AllocatorType &allocator)
 
Optional reporting function to generate a JSON value with functor information.

 
Member Function Documentation
◆ evaluate()
| | | | |
| --- | --- | --- | --- |
| virtual double chrono::ChLinkRSDA::TorqueFunctor::evaluate | ( | double  | time, |
| | | double  | rest_angle, |
| | | double  | angle, |
| | | double  | vel, |
| | | const ChLinkRSDA &  | link  |
| | ) | | |

pure virtual
---
The documentation for this class was generated from the following file:
/builds/uwsbel/chrono/src/chrono/physics/ChLinkRSDA.h