chrono::ChRealtimeStepTimer Class Reference
Description
Class for a timer which measure the time spent in VR or game-like simulation loops, and suggests a dt integration step for the physical simulation for the next step.
Uses high-resolution timer. Note that the suggested integrations step tries to keep a true real-time pace in advancing the simulation, that is the simulated time should match the real time. The suggested step may be non-constant because the overhead of the simulation loop may vary because of varying overhead in visualization, collision or simulation.
#include <ChRealtimeStep.h>
Inheritance diagram for chrono::ChRealtimeStepTimer: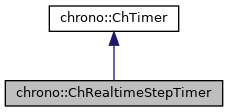 [legend]
Collaboration diagram for chrono::ChRealtimeStepTimer: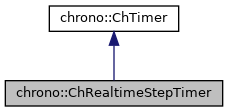 [legend]
Member Function Documentation
| | | | |
| --- | --- | --- | --- |
| double chrono::ChRealtimeStepTimer::SuggestSimulationStep | ( | double  | max_step = 0.02, |
| | | double  | min_step = std::numeric_limits<double>::epsilon()  |
| | ) | | |
Call this function INSIDE the simulation loop, just ONCE per loop, to get the suggested time for the next integration time step.
If the ChRealtimeStepTimer measured that previous simulation step required few real-time, it will suggest a corresponding small value for advancing the simulated time, and viceversa will give higher values (up to a maximum 'max_step' limit, however) if the simulation goes slow because of high CPU overhead. If the clamping value of 'max_step' is not reached, the real-time and simulated time should always match. There is also an optional 'min_step' value, which avoids too small integration steps.
Parameters

| | |
| --- | --- |
| max_step | upper limit for step |
| min_step | lower limit for step |