chrono::ChLog Class Reference
Description
Base class for output of errors, messages, warnings, etc.
(logging class). Must be specialized for specific output, for example output to console, to windows, etc. by inheriting custom classes. See below, an example for logging to std::cout
#include <ChLog.h>
Inheritance diagram for chrono::ChLog: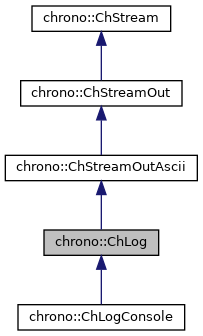 [legend]
Collaboration diagram for chrono::ChLog: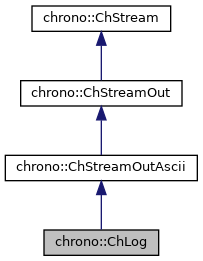 [legend]
Protected Member Functions

 
ChLog ()
 
Creates the ChLog, and sets the level at MESSAGE.

 
 Protected Member Functions inherited from chrono::ChStreamOut
virtual void 
Output (const char *data, size_t n)=0
 
Outputs a raw chunk of data, from pointer 'data' up to 'n' chars (bytes). More...

 
Member Enumeration Documentation
◆ eChLogLevel
There are different levels of log messages.
This is indifferent for the base class, but more sophisticated specializations of the ChLog class may handle message output in different ways (for example a ChLogForGUIapplication may print logs in STATUS level only to the bottom of the window, etc.)
Member Function Documentation
◆ Flush()
| | | | | |
| --- | --- | --- | --- | --- |
| virtual void chrono::ChLog::Flush | ( | | ) | |

inline

virtual
Forces output of message buffers, if any.
Also, should restore the default eChLogLevel This base class does pretty nothing, but inherited classes should override this method with more specific implementations.
---
The documentation for this class was generated from the following files:
/builds/uwsbel/chrono/src/chrono/core/ChLog.h
/builds/uwsbel/chrono/src/chrono/core/ChLog.cpp