Make a spider robot in SolidWorks and simulate it
This demo is about the simulation of a crawling spider robot with six legs, where we control the motion of the legs with 18 actuators.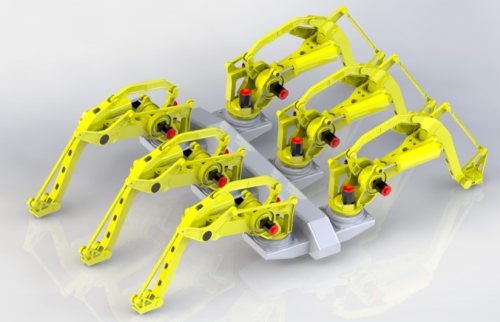 In deail, one performs the following steps:
Use SolidWorks to make a 3D CAD model of the crawling robot,
export it as a .pyfile using the Chrono::SolidWorks add-in; ex. use the name spider_robot.py
create a Python program, ex. use the name demo_spider.py, using the functions of PyChrono to load and simulate spider_robot.py.
For your convenience, the CAD model, the converted spider_robot.py model, and the demo_spider.py program are all available in the following archive:
The following is the complete listing of demo_spider.py (it must stay in the same directory where you exported your CAD model with the name spider_robot.py)
Note how we used mybody = mysystem.SearchBody('...'); and mymarker = mybody.SearchMarker('...'); to retrieve object pointers from their names in the 3D CAD model. Also note that a part that shows as M-410iB-300 -1/ArmBase<1> in the GUI of SolidWorks, becomes M-410iB-300 -1/ArmBase-1 for the Python side; i.e. the <N> suffix becomes -N.
Finally, note how we used ChFunction objects to build some basic loop motions for the actuators, in prescribed rotation mode.